Production of battery metals such as graphite, lithium and cobalt will have to increase by nearly 500 percent by 2050 to meet growing demand for clean energy technologies, the world bank reported on Monday.
According to the global lender, the deployment of wind, solar and geothermal energy and the energy storage needed to make the transition to a low-carbon economy will require more than 3 billion tons of minerals and metals.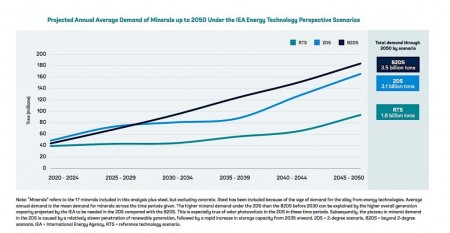 Many important minerals used to make batteries for electric cars have been found in developing countries.
The world bank's goal is to help these countries mine these commodities in a sustainable way to avoid major ecological damage.
Tapping the vast quantities of key commodities the world needs is seen as the only way to achieve the goals of the Paris agreement.
The agreement aims to limit global warming to 2°C or less.
The minerals for climate action report says the world will demand a 50% reduction in global carbon emissions of greenhouse gases by 2030 and a net zero by 2050.
The findings confirm the premise of the first report, released in 2017, which warned that ambitious climate targets were becoming more demanding of minerals and metals.
Although renewable energy and energy storage technologies require more minerals, their carbon footprint from extraction to final use accounts for only 6 per cent of greenhouse gas emissions from fossil fuels.
The report also calls for greater recycling and reuse of minerals, noting that even a 100 percent increase in the recovery rate of minerals such as copper and aluminum will not be enough to meet the demand for renewable energy technologies and energy storage.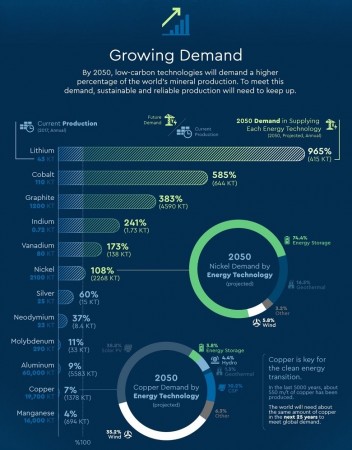 Some minerals, such as copper and molybdenum, will be used in a variety of technologies, while others, such as graphite and lithium, may be used only for battery storage.
That means any change in the deployment of clean energy technologies could have a significant impact on demand for certain minerals.
The world bank warns that covid-19 is wreaking havoc in global markets and that developing countries dependent on minerals are losing the revenue they need.
As economies begin to reopen, they will need to strengthen their commitment to climate-smart mining principles to mitigate negative impacts, the bank said.
"The potential for covid-19 to pose additional risks to sustainable mining makes the commitment of governments and companies to climate-smart practices more important than ever," explains Riccardo Puliti, global director of energy and extractive industries and regional director of infrastructure at the world bank.
The world bank's latest forecast, which echoes a moody's report in February, suggests that green, social and sustainable bond issuance is expected to reach $400 billion this year.
That's up 24 percent from a record $323 billion in 2019.